Simply child's play - a concert for strings - 20 short pieces for 2 and 3 violins (1998)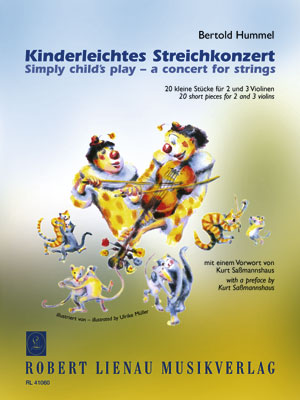 1. Ouverture
2. At the cinema

version for piano
3. ... undecided ...
4. Waltz elegy for Fabian
5. The man from Mexiko
6. 3 + 2 = 5
7. Evening mood
8. March canon
9. Sequenzes
10. "Ha amen Ort e Blüemli gseh ..." (after an alemannic folksong)
11. Syncopated song
12. 2 + 3 = 5
13. ... one behind the other and together ...
14. Lullaby for Lara
15. Waltz canon
16. Cat and mouse
17. Little melody for Anja
18. ... loud and soft ...
19. "I heard a little bird singing ..." (after an alemannic folksong)
20. Tango canon with pedal point

Duration: 25 minutes
Publisher: Robert Lienau RL 41060 / ISMN 979-0-011-41060-8


Preface (RL 41060)
Introducing young musicians to chamber music is one or the most important duties of a violin teacher or a music school. What we lack in particular is good contemporary music of a high educational standard that can be performed by children during the early stages of learning. My enthusiasm for this collection is huge, because it meets this very need.
Hummel provides a playful introduction to a wide variety of musical terms, forms and styles in 20 short duos and trios. Suggestions for small-scale percussive accompaniment extend the sound range of the pieces which can be performed singly or as a cycle - perhaps also in conjunction with short poems and stories.
I would like to add that I personally was particularly delighted to get to know this work. As a young student in Würzburg, as a resuit of many encounters with Bertold Hummel I always regarded him as a model of a benevolent and enthusiastic teacher, composer and humanist. I hope to see this book on many children's music stands, teaching them what fun good music can be!

Kurt Saßmannshaus (www.violinmasterclass.com)

Here you can find other Duos for violins:
16 Christmas carols for 2 violins