Abschied (Farewell) for Violoncello (2002)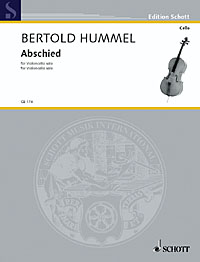 First performance: September 9, 2002 / Berlin
Julius Berger

Duration: 4 Minutes
Publisher: Schott Music CB 176 / ISMN: 979-0-001-13632-7


CD SoloMusica SM 120
Video: Works by Hummel on youtube
My father made the first sketches for this work, a commission marking the retirement of his colleague (in the Guardini Foundation) Hermann Josef Schuster, in early summer, 2002. The event took place on the 9th September, 2002 in Berlin and there the first performance was given by Julius Berger. Those letters from his colleague's name corresponding to notes of the scale provided the musical material for the composition.
Only a few days before his death (9th August, 2002), he gave me the last instructions regarding the sketches, to which I gave the name "Farewell".
A work which in its brevity touches deeply with animated, simple and saving strength.
Stefan D. Hummel