Marimbana for Marimbaphone, Op. 95d (1992)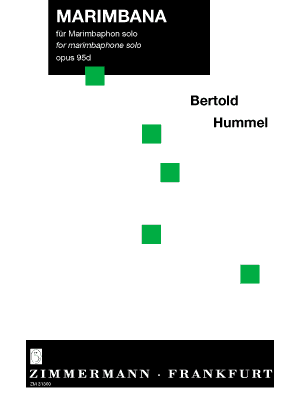 II. pochend
III. stockend
First Performance : November 4, 1992, Gerogia Southern University, Foy Fine Arts Building
Ney Rosauro
Duration: 8 Minutes
Publisher: Zimmermann Musikverlag Frankfurt ZM 31100 / ISMN: M-010-31300-9

Thorofon CTH 2233
Marimbana was composed in 1992 for the Brasilian, Ney Rosauro.
The 1st movement - flie▀end (flowing) - with its constant quaver figures represents an "African" perpetual motion featuring an imperceptible tendency towards higher frequencies with its varying meters and accents. The movements ends precisely one octave higher than the beginning.
The 2nd movement - pochend (pulsating) - is characterized by a repeated major second (e-flat /f) paraphrased by fully chromatic lines - a short episode interrupts this "beating of the heart", which subsequently continues another 21 times.
3rd movement: The attribute "stockend" ('faltering') determines the flow of this rondo movement, comprised of 3 main elements.
Bertold Hummel