Fantasia gregoriana for orchestra, op. 65 (1977)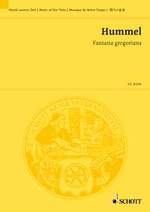 Beginning of Fantasia gregoriana

Orchestra: 3.3.3.2 - 4.3.3.1 - Timp., Perc., Hrp., Strings
First performance : march 16, 1978, Stadttheater Gie▀en
Orchester des Stadttheaters Gie▀en / Bertold Hummel

Duration: 8 Minutes

Publisher: Schott Music ED 20694 / ISMN 979-0-001-16897-7 (Study Score)


The brief Fantasia gregoriana, Op. 65, is based on the Gregorian Easter Hallelujah. Like a mosaic, the individual heterogenic episodes, lyrical, dance-like, hymnal and dramatic in turn, are combined through the permanent presence of the theme into a unified whole. The Gregorian Hallelujah is present as a type of mode in every bar of the work. The subdued introduction, characterised by the tritonically transposed structure of the original material, is followed by a sharply accentuated presentation of the theme in the bass. Over the partially engarlanded resolved variants, a first bitonal climax is reached (F minor and D major simultaneously). The dramatic development is repeated, interspersed with arioso interruptions, until the main idea is brought to culmination in brilliant instrumentation. The final chord consists of all notes of the theme.
Bertold Hummel
The Fantasia gregoriana, op. 65, close to 10 minutes in duration, is based on the Gregorian Easter Alleluia. As if in a mosaic, the individual heterogeneous episodes of lyrical, dance, hymn or dramatic character are held together by the constant presence of the theme.

Bertold Hummel

Press
Reichenhaller Tagblatt, 1st February, 1989
The "Fantasia gregoriana", op. 65, is based throughout on the ancient and venerable "alleluia" motif in Gregorian chant. In his own words, he was inspired to the composition as he took part in a celebration of the Resurrection according to the Gregorian rite during an Easter Night in a monastery. And indeed - pregnant rhythms of awakening and irresistible feelings of a new beginning are signalled in the orchestra with radiant effects for wind instruments and full, overflowing string sound.