Divertimento for 4 Violins or Violin Orchestra op. 36a (1968)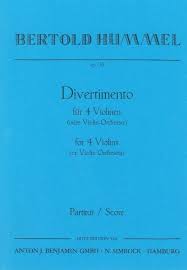 I. Marsch

III. Finale

Duration: 10 Minutes

Publisher: N. Simrock Hamburg-London (Boosey & Hawkes)
Score: ISMN: M221120731 / Parts: ISMN: M221120748

Video: Works by Hummel on youtube

Juicy sonorities and practically engaging all four instruments throughout the composition. Hummels style avoids pitch decoration; it is direct and in respect to the Marsch opener and Finale the contents has a 20th-century casualness. The movement in between these is a Waltz. It runs as one would expect, save for the surprise near twist of the final three measures. The Divertimento can be performed by multiple players and the work is then von Violin Orchestra.
Arthur Cohn (in: Literature for Chamber Music, Chapel Hill NC 1997)




Press

Main-Post, 28th April, 1972

Musically highly original, not ashamed of its Stravinsky-like rhythmical impulses: that's how Bertold Hummel's high-velocity Divertimento turned out.




Musical Opinion, February 1970

Bertold Hummel's 1968 Divertimento needs four good players and, ideally, a conductor, especially if the players are multiplied. Movement 1 is a Hindemithian march, No. 2, a waltz in similar style. The finale is a more personal movement with simple cross-rhythms an five-beat measures. Enjoyable music for four or twenty-four fiddlers.