Concertino for Bassoon and Strings, op. 27b (1964/1992)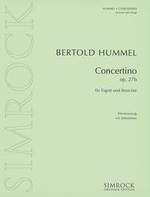 I. Prolog
II. Concerto

beginning
III. Epilog

beginning

Duration: 15 Minutes

Publisher:

N. Simrock Hamburg-London (Boosey & Hawkes)
Score and parts: EE 5380 / ISMN:

979-0-2211-2171-4


Piano score and solo part: EE 5289 / ISMN:

979-0-2211-2072-4




Score

I.

II.

III.

Piano score

I.
II.
III.

Musicaphon M 55717
Video: Works by Hummel on youtube
The french folk songs:

The Concertino op. 27 was written in 1964 as Concertino for basset horn and string orchestra. lt was arranged for bassoon and string orchestra (op. 27b) in 1992. What is astonishing in this three-movement work, with its extremely virtuoso solo part, is the particularly original inclusion of French folk melodies. The melodies and harmonies are primarily based on series of fourths and fifths that, derived from a folk tune, provide the musical material for the "Prologue" (first movement) as well as for the work as a whole. The "Concerto" (second movement) is dominated by a distinctive motif in the bassoon (triplet upbeat, leaps of a fourth and a fifth). This motif also turns up rondo-like in the orchestra in a number of variants. Moreover, nervous scale figures, set against syncopations and uneven rhythms, determine the course of the musical development. Suddenly, another folk tune appears - as a contrasting idea. After a virtuose solo cadenza, this idea is taken up by the orchestra as a cantus firmus. The extremely rapid final measures of this movement are followed by a contemplative "Epilogue," a sort of "antiphonal song" between the first violins (supported harmonically by the rest of the string instruments) and the solo instrument.
Thomas Müller
Press
Main-Post, 21st April, 1993
The central event of the evening was the Concertino for Bassoon and Strings by Bertold Hummel. Originally conceived for Basset Horn, the Würzburg composer rearranged it for Bassoon for the première this evening and in doing so created a tailor-made work for the soloist Eberhard Buschmann. What he conjured up out of the brown tube proved to be both virtuoso and powerfully expressive. Within the respectful partnership with the orchestra, he let his instrument sing, lament, even loquaciously "narrate" (the copious cadenza of the middle section). We experienced a full blossoming of Hummel's
harmonic invention with frequent surprising rhythmical shifts and even interspersed passages od subtle humour.