Concert Overture for Chamber Orchestra, op. 13c (1952)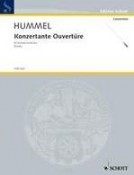 Concert Overture

beginning

Orchestra: 1.1.1.1 - 1.1.0.0 - Perc., Strings

Duration: 8 Minutes

Publisher: Schott Music
Score: CON 263 / ISMN 979-0-001-17426-8
Parts: CON 263-50


Video: Works by Hummel on youtube
Foreword Schott Music CON 263

In 1952, Bertold Hummel received a commission to compose a Concert Overture for the Kleines Unterhaltungsorchester des Südwestfunks [South German Radio Light Orchestra]. The conductor of this orchestra, the pianist Willi Stech, was interested in attracting gifted young composers to the genre "sophisticated light music" which was immensely popular in Germany up to the end of the 1960s. With Bertold Hummel, he gained a composer who alongside several of his own arrangements was to provide seven lively pieces between 1952 and 1958 displaying original instrumentation, an elaborate style of composition and ingenious rhythmic elements. The Concert Overture, broadcast in a production by the above-mentioned orchestra on 14 February 1953, was the first of this series of works which take up a special position in Hummel's oeuvre. After a concert performance of the overture in Wuppertal, a critic wrote in the newspaper Rheinische Post: "In the radiance of the splendid and jovial Concert Overture by Bertold Hummel, the orchestra displayed great verve in the performance of a work which remains within the borders of tonality while combining a musical freshness with vivid orchestral colouring."

Martin Hummel, September 2010 Translation: Lindsay Chalmers-Gerbracht

Press
Rheinische Post, Düsseldorf, 22nd August, 1959
With the brilliance of a splendid and joyous "Concertante Overture" by Bertold Hummel, the orchestra demonstrated verve in interpreting a piece which, while remaining within tonal boundaries, combined fresh, lively movement with blooming colours.