Tripartita for Winds (4 Trumpets, 1 Horn, 3 Trombones, Tuba) and Timpani, op. 103e (2000)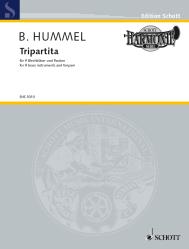 I. Intrada
II. Chorale
III. Toccatina
First performance: August 18, 2000, Würzburg, St. Peter und Paul-Kirche
Fürstbischöfliches Bläserensemble Würzburg / Richard Carlson Steuart




Duration: 6 Minutes

Publisher: Schott Music


Score

and parts: SHS 3010 / ISMN: 979-0-001-20329-6



This work in three sections draws on pre-baroque performance traditions, in which groups of wind instruments played brief, pregnant pieces in churches, public places and from steeples.
The subsidiary titles, Intrada - Chorale - Toccatina are precise terms for the contrasting sequence of movements.
The work was written in the year 2000 for 4 Trumpets, 1 Horn, 3 Trombones, Tuba as well as Timpani and is dedicated to the trumpeter Richard Steuart.
Bertold Hummel
Foreword
The tripartite work harks back to musical practice from the pre-Baroque period when wind
ensembles performed compact, brief pieces in churches, on town squares and from towers. The
three movements
Intrada
,
Choral
and
Toccatina
, combined in a type of suite, adhere to the
customary musical principle of fast-slow-fast, thereby producing a highly contrasting musical
structure.
The first movement is characterised by the alternation of instrumental groups in different
combinations with tutti blocks in the central and concluding sections of the work.
The second movement is based on a chorale melody from the Genevan psalter from 1543. The
melody is intoned by the trumpets, repeatedly interrupted by prominent motifs on the horn
and sporadic shimmering and delicate figures, mostly within a quiet dynamic range.
The third movement concludes the short cycle in a vivacious, virtuoso style with a gradually
developing crescendo culminating in three powerful chords.
Claus Cornian
Translation: Lindsay Chalmers-Gerbracht