Sonatine pour contrebasse et piano, op. 69b (1979)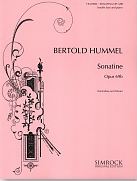 I. Allegro
II. Andante cantabile

début
III. Finale capriccioso
Première: 5 mars 1980, Würzburg, Hochschule für Musik
Gerhard Kiunke / Christoph Weinhart
Durée: 11 minutes
Maison d'édition: N. Simrock Hamburg-London (Boosey & Hawkes) ISMN M-2211-0907-1
| | | | |
| --- | --- | --- | --- |
| | | | |
| I. | II. | instruction pour m. 49 | III. |

Conventus Musicus CM 102
Video: Hummel sur youtube
PRESSE
Music Library Association, USA "Notes" 1988
Bertold Hummel's excellently produced Sonatine, Op. 69b, for contrabass and piano has to be for the pedagogical populace and their clientele.
The first movement uses mostly quarter and half notes and is devoid of any rhythmic interest whatsoever. The second movement, Andante Cantabile, is in 6/8 and, yes, it does have references to the siciliano and it makes subtle use of hemiola. It sings, in a neo-baroque style, and is effective in the somewhat murky tessitura. The often rich piano part will certainly have to be played at lower dynamics than those indicated.
The Finale Capriccioso is full of folk-like tunes that dance and sing in a charming joyous manner. The lighthearted spirit of this movement lends itself to a pedagogic function. The dedication to the composer´s sons seems to reinforce this, and as I read through Hummel´s Op. 69b the vision of his two sons performing this piece in the family music room is in clear focus. If my speculation is correct, then Bertold Hummel has succeeded in producing a useful pedagogical composition for contrabass solo and piano.
Bertram Turetzky
Music Teacher, October 1986
A very effective work for the budding performer on bass. Ample variety between movements but technically not too challenging.
STRINGS/USA Feb.1991
It is no surprise to discover that composer Bertold Hummel trained as a cellist as well as a composer. He writes with an intimate knowledge of strings, and seems to favor the lower sound of viola and cello. His special talent is for composing pieces which are full of variety and vitality, but technically easy enough für capable students. These pieces will delight teachers and students who are looking for accessible contemporary music.
His Sonatina Op. 69b for double bass and piano will be welcomed by teachers and young bass players. Hummel works with uncomplicated musical material, and yet he manages continually to surprise and delight with his harmonic and rhythmic contrasts.
Although many of Hummel's pieces for solo stringed instrument and piano are clearly intended for students, I would not hesitate to place them on a recital program. Their beauty and excitement could not fail to please an audience.
(D.M. B.)