110901 pour speaker et percussion, op. 107d (2001)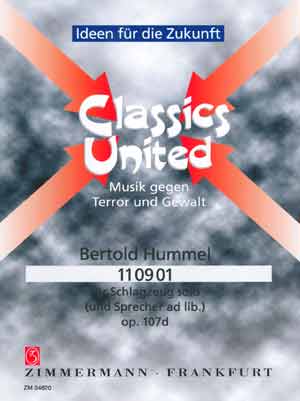 110901 II. III.a

version allemande

Durée: 8 minutes
Maison d'édition: Musikverlag Zimmermann Frankfurt ZM 34620 / ISMN: M-010-34620-5
Reiner Taudien
Black Tuesday September 11, 2001
I

Shattered the myth
of omnipotence.
Terror on iron wings pierces
the heart of our capitals
Manhattan shaken
to the core.
Mass murder spills from
Madness.

III a

Determined grief between
profit and loss.
The free world sends flowers.
Horrified, protesting innocence,
bewailing
the dread deeds of evil men.

II

Open-mouthed, in naked fear
the world is frozen,
speechless,
one heartbeat long
A shout goes up from the wicked
and the brokers
lament as the share prices
plummet.
Greed pumps the price
of oil.
The President announces:
Government and business
as usual.

III b

As if the vipers of
religious mania had never
sat down at the table of the righteous,
to barter pour power and oil.
The arrogance of capitalism
is pourced to its knees

IV

And now? Onward to the
Middle Ages?
Crusades in the name of our gods?
Wall Street against Babylon?
© 2002 by Musikverlag Zimmermann, Frankfurt am Main