"... in honorem" for organ and percussion op. 98a (1994)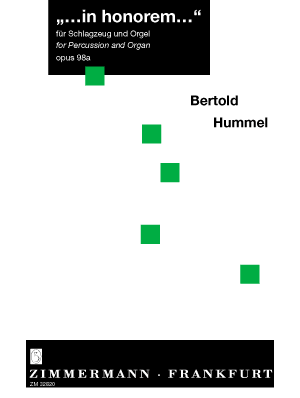 I. Invocation
II. Toccata
III. Choral
Legend for the Percussion:

First performance: September 30, 1994, Nürnberg
Hermann Schwander / Werner Jakob
Dedication: for Klaus Hashagen
Duration: 12 Minutes
Publisher: Zimmermann Musikverlag Frankfurt ZM 32820 / ISMN M-010-32820-1
Title:

The sequence of notes H-A-ES-H-A-G-E (H = b; Es = e flat), derived from the Name of Hashagen, is present in all 3 parts of this 12-minute congratulation piece.
In the Invocation (I) it is presented by tubular bells and vibraphone in the form of a short call embedded in the sound of 5 dobacis. Long sustained organ sounds with supplementary fully chromatic arabesques are assigned to the organ part.
The Toccata (II) gives skin and wood percussion instruments an opportunity to perform a concertante dialog, but also to play together (Mixtur) and in counterpoint (Fugato).
The final Choral (III), repeated interrupted and linked to the "Hashagen theme", concludes the composition with a meditative end.
Bertold Hummel